Products You May Like
Arnold is back. 
Every year Arnold makes this statement, but this year it rang true. Although the competition had gone ahead during the pandemic, the expo and consumer confidence had, rightfully so, had been down and almost out 
---
---
The expo over the weekend, particularly Saturday, was packed to the rafters, sponsors had come out in droves and the local restaurants, gyms and nearby hotels of Columbus welcomed the much larger Arnold Classic crowd.
I have personally been attending this show for the past 18 years and it was a relief to enjoy the 'good ole' days again of the Arnold Classic where numbers were up, excitement was heightened and normalcy was back. 
A new competition that was added to the line up of events was Slap Fighting. Logan Paul and Arnold were on hand to commentate and witness the event that gained a lot of attention for it's sheer craziness where competitors take turns to literally slap the s*+# out of each other 
I bumped into Arnold at Golds Gym in Venice just days before the Classic getting pumped for his trip to Columbus for the 34th year of his event to give out almost $800,000 in prize money. 
Hair band rocker, Dee Snider of Twisted Sister, kicked off the entertainment before the highly anticipated categories began.  
Five weeks out, the 2022 Arnold Classic was set to be a stacked lineup. Unfortunately 6 competitors had since dropped out for various reasons but we still got to see a class of 9 quality physiques. 
The judges worked the top two favorites and previous winners of Arnold's show, Brandon Curry and William Bonac extremely hard. It was an extremely clear battle between these two champions.
---
---
1st place Brandon Curry 
Brandon Curry was eventually crowned the winner, who also took home the $10,000 bonus for the best poser award. 
Brandon had made improvements from Friday nights prejudging which was noticeable in body parts such as his quads which looked down in size and unbalanced compared to his massive upper body. Curry didn't have the muscularity or deep deep separation of Bonac but his symmetry and physique flow reigned supreme. 
2nd Place William Bonac
Although William Bonac put forth an impressive overall package that was ripped, extremely full and muscular enough to take home the Most Muscular Award, the judges slipped him into second which was backed by some boos of the crowd. 
Although William looked great through some poses, others weren't as impressive. He looked like he had attempted the carb up too heavy had which led to a slightly bloated midsection. William looked very dominant through the side poses, especially through the ham/glute/quad tie-ins but had a slight film of water through the midsection. I believe Williams gyno which is seen through ab and oblique poses also may have contributed to his 2nd behind Brandon. 
3rd Place Steve Kuclo
---
---
Steve Kuclo took home third place and brought an impressive physique that improved the more he posed. He didn't look much different to yesterdays prejudging but he was competitive enough due to his massive 6'2 frame at over 275lbs. He provided the crowd with plenty of entertainment within his powerful routine to the with Black Sabbath blasting the crowd.
4th Place Samson Dauda
Samson Dauda from the UK surprised a lot of us when he came in fourth place. He posed to classical tunes in the beginning but then soon transitioned into a tribute to a previous Kevin Levrone Olympian routine and song looking drier and fuller this evening which likely moved him up a one-to-two placings from yesterdays prejudging.
5th Justin Rodriguez
Justin was softer this evening and was holding water. Although Justin has some very impressive poses and huge body parts, his blockier midsection doesn't allow his physique to flow, especially at transitions to poses. An impressive placing from his 8th place Mr. Olympia last year nonetheless.
2022 Arnold Classic Bodybuilding Results:
Winner — Brandon Curry
Second Place — William Bonac
---
---
Third Place — Steve Kuclo
Fourth Place — Samson Dauda
Fifth Place — Justin Rodriguez
Sixth Place — Brett Wilkin
Seventh Place — Regan Grimes
Eighth Place — Maxx Charles
Ninth Place — Fabio Giga Rezende
---
---
Best Poser Award
Brandon Curry wins Arnold Classic Physique best poser award.
Ed Corney Best Poser Award: Brandon Curry ($10,000)
Most Muscular Award
William Bonac ($10,000)
Arnold Classic 2022 Pro Wheelchair Results
The Pro Wheelchair division has been a staple in this show and the Olympia for several years  which is largely due to my person friend Nick Scott. The event has become hugely popular and inspiring to say the least and continues to grow each year. We didn't see this event happen last year but the the division returned in 2022 and saw Gabriele Andriulli pull off an upset over multiple Olympia and 5 times Arnold Classic winner Harold Kelley 
First Place – Gabriele Andriulli
---
---
Second Place – Harold Kelley
Third Place – Bradley Betts
Fourth Place – Chad McCrary
Arnold Classic 2022 Men's Physique Results
Erin Banks became the champion at the Arnold Classic 2022 in the Men's Physique division. 
Banks owned the stage with confidence that caught the attention of the judges.  His traps were so impressive that Arnold even asked him to repeat this pose during his victory interview. He showed incredible conditioning which saw him narrowly take the win over an equally impressive Emmanuel Hunter.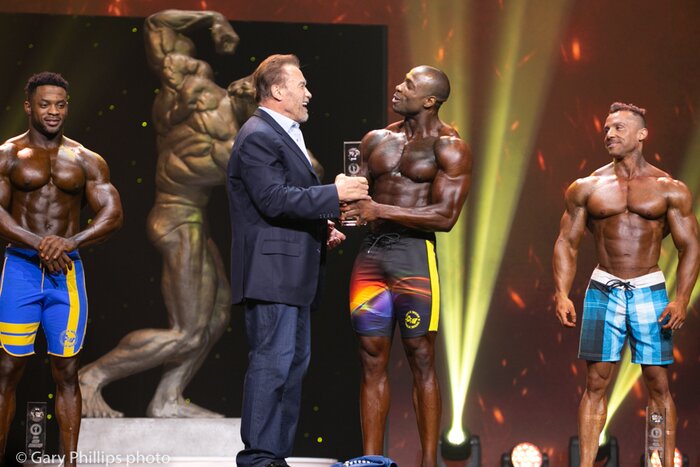 First Place – Erin Banks
Second Place – Emmanuel Hunter
---
---
Third Place – Diogo Montenegro
Fourth Place – Antoine Weatherspoon
Fifth Place – Choi Bong-Seok
Sixth Place – Terrence Teo Kok Hua
Seventh Place – Riccardo Croci
Eighth Place – Daniel Leone
Ninth Place – Drelyn Hunt
---
---
Arnold Classic 2022 Wellness Results
After makings its debut at the Olympia in October, Wellness appeared at the Arnold Classic for the first time over the weekend. This is a category that appears to be growing at a dramatic rate and had already become highly competitive.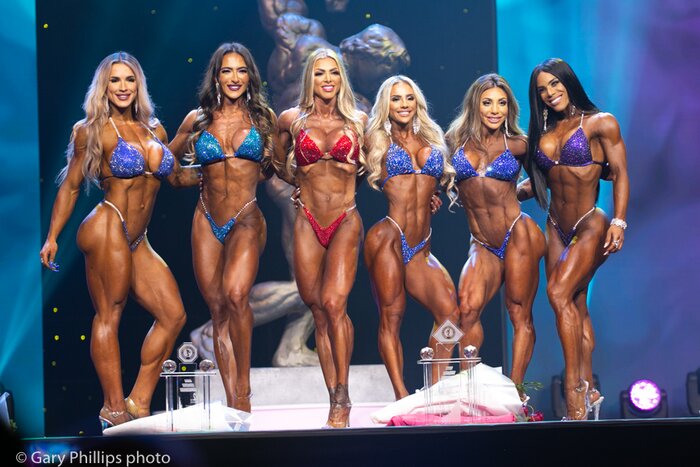 Isabelle Nunes won the inaugural Arnold title at which didn't seem contested by the judges or argued by the crowd. Nunes looked very impressive in prejudging and she only needed to show up to take the title on Saturday night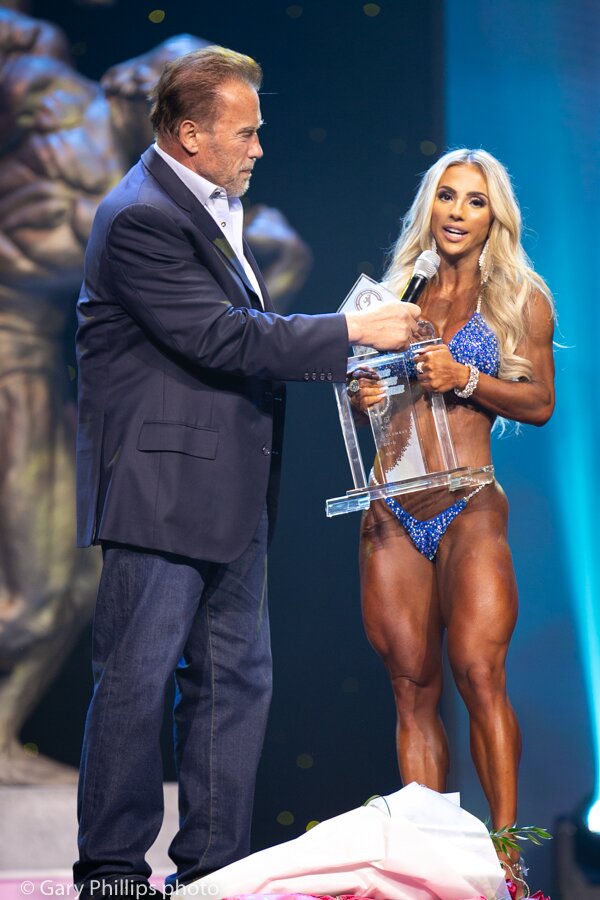 First Place – Isabelle Nunes
Second Place – Angela Borges
Third Place – Sunny Andrews
Fourth Place – Julia Chitarra
Fifth Place – Yarishna Ayala
---
---
Sixth Place – Kassandra Gillis
Seventh Place – Barbara Cesar
Eighth Place – Lorena Ragusa
Ninth Place – Devyn Cambre
Tenth Place – Casey DeLong
Arnold Classic 2022 Bikini Results
The Bikini International division keeps going from strength to strength which keeps attracting more social followers, fans, sponsors and athletes alike. This year it was Lauralie Chapados who impressed everyone during prejudging with her confidence, flawless presentation tan which was too hard of a package to beat from her closest rivals. 
Former Olympia champions Ashley Kaltwasser and Elisa Pecini were tipped to fight for 1st place but it was Maureen Blanquisco who leapfrogged them into 2nd place 
---
---
First Place – Lauralie Chapados
Second Place – Maureen Blanquisco
Third Place – Ashley Kaltwasser
Fourth Place – Elisa Pecini
Fifth Place – Jourdanne Lee
Sixth Place – Alessia Facchin
Seventh Place – Lucia Malavaze
---
---
Eighth Place – Lauren Dannenmiller
Ninth Place – Phoebe Hagan
Tenth Place – Allison Testu