Products You May Like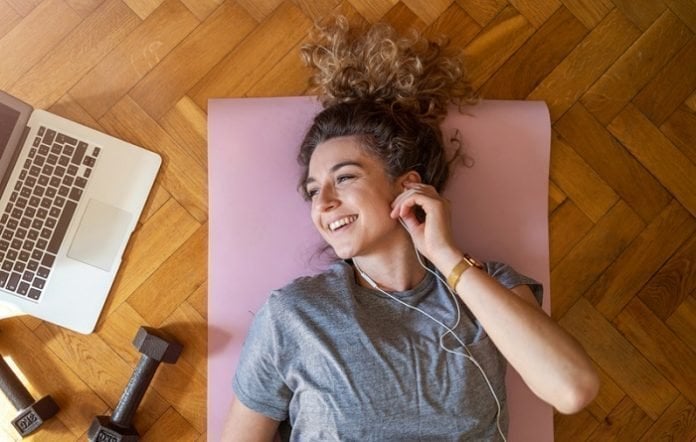 I love talking business. I really love helping people be successful in business. What's better than helping someone sell their own fitness blog for a chunk of change? Whether you started your blog as a personal project or with the intent of making money off of it, over time you will see that there is definitely a market for earning money from your existing blog.

Once you have started earning money through your blog, you can potentially sell your blog to someone who would take it over. How cool is that?
But with so many blogs on the web, how can you make your blog stand out? What steps can you take to make your blog worth even more? Here you'll find 6 steps you can take to sell your fitness blog for money. Let's sell a fitness website!
Tools needed/used:
1. Know your analytics
The first thing you need to do before making money from your blog is to understand the analytics of your blog. Google Analytics is one of the most important things to look at for monetizing your blog.
By using Google Analytics, you can monitor trends and activity on your blog. This is helpful for seeing how people interact with your content, seeing what areas could use more growth, and noticing patterns in how people engage with your blog.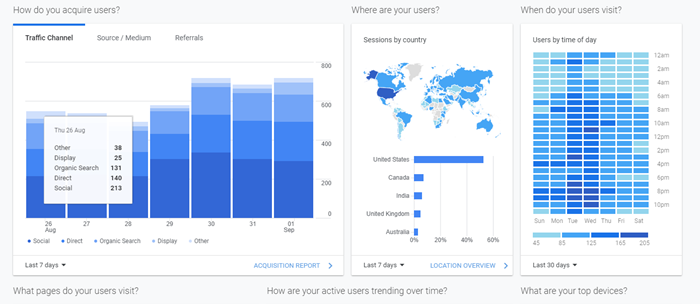 Once it is set up properly, you can also use other tools, like Alexa, to track your analytics. Other tools, such as monitoring your domain authority, can help you know how likely your website is to show up on searches.
2. Develop Recurring Revenue Streams
Once you have analyzed your blog and have seen your strong points, it is time to start developing revenue streams. Having recurring revenue streams means having a constant flow of funds available.
This can be done by having a recurring donation system set up for people who enjoy your blog to help support you. You can set up a donate now button via PayPal easily. Another option is to keep some material available only to those who subscribe for a monthly fee.
Regardless of the method you use, it is important to record your monthly expenses and monthly income to have an accurate understanding of your profit. In general, a content-driven fitness blog can be sold for about 3-4 times its annual profit.
Think about that multiple! If you're clearing $10,000 per year on your blog (after all your expenses) you can potentially sell that for $40,000!
One great way to get started with revenue is by offering ad slots on your blog or joining an affiliate marketplace like ClickBank or ShareASale. That's another article altogether.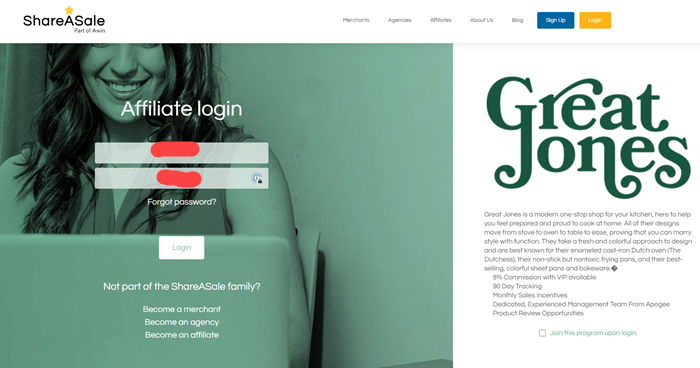 4. Automate as Much as Possible
When people look for a fitness blog to buy, they are not looking for a project to invest a lot of time and effort into. Most buyers prefer a more or less "finished product" that they can simply take over and add on to.
This involves structuring your blog well so that new posts can have a set place to go, a set format to follow, and a basic outline of how they will go. Having these things set up will make it more appealing for a buyer to purchase.
To automate mundane tasks like answering emails or editing content you can hire some great Virtual Assistants on a platform like UpWork.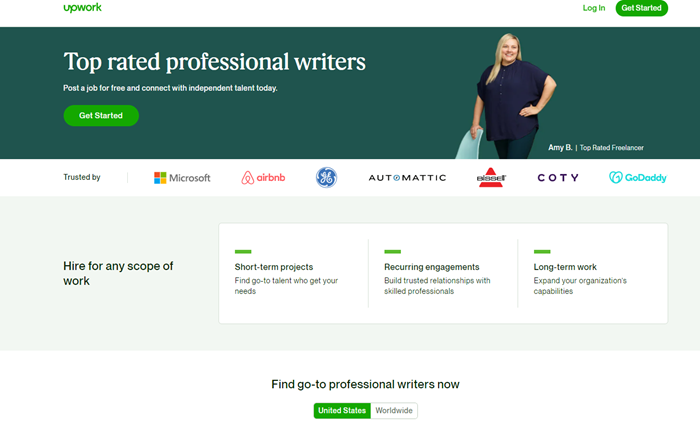 5. List on Flippa
Flippa is an excellent tool to use for selling your fitness blog. Much like eBay or Amazon sell physical products, Flippa is the best place to buy and sell digital assets. Flippa is custom-designed for selling things like fitness blogs, meaning it makes it easy to find a buyer and match with someone who understands what they want.
Because of how it is laid out, Flippa lets you advertise the best aspects of your website so that people can see the reasons to buy your site. With spaces for monetization methods, showing site traffic, and other specifics.
Get your business listed on Flippa here!
Build Out Your Listing
Building out a good Flippa listing is the key to finding a seller. How can you make a good listing?
a. Describe Your Business
The first step in any listing is creating an enticing title. Be sure to tell how old a site is (older sites are more tested and trusted) and then name a few of the big perks about your business.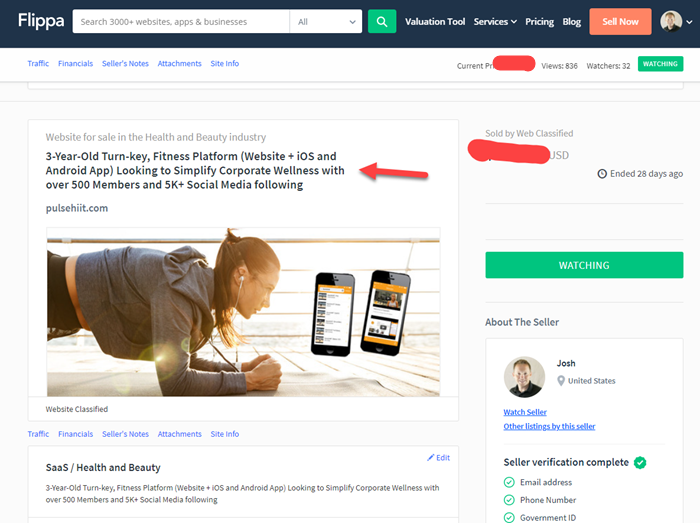 This is where you can convince potential buyers that they should purchase your website. Flippa has shown that more detailed listings with rich, complete descriptions are 3.5 times more likely to sell.
By putting forth the effort to explain why your blog is worthwhile, people will understand what they are buying and be more motivated to purchase. Honesty will pay off, mentioning the strengths and weaknesses of your blog will show people that they are getting exactly what is described.
b. Enter All Information Correctly
The next step to posting a good listing is making sure all of your information is listed correctly. Having your fitness blog advertised in the correct location and properly detailed makes sure that the buyers who may be interested are able to see it.
Make it enticing as well. Obviously, DO NOT embellish the truth but you're marketing your business so make it appealing to a person looking to buy your digital asset.
Add "Key Features", "How the Business Makes Money" and "Why You're Selling tt".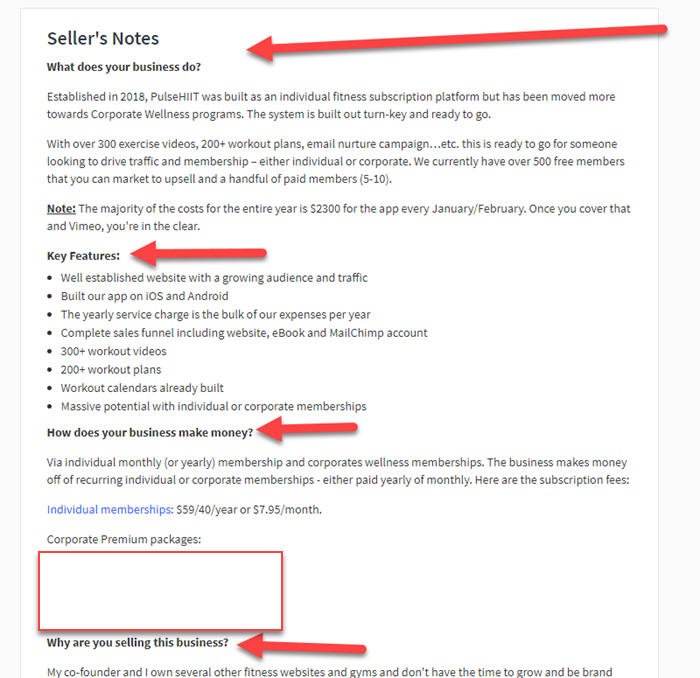 Also, fully develop out "Who This Business Would be Perfect For" and "Assets".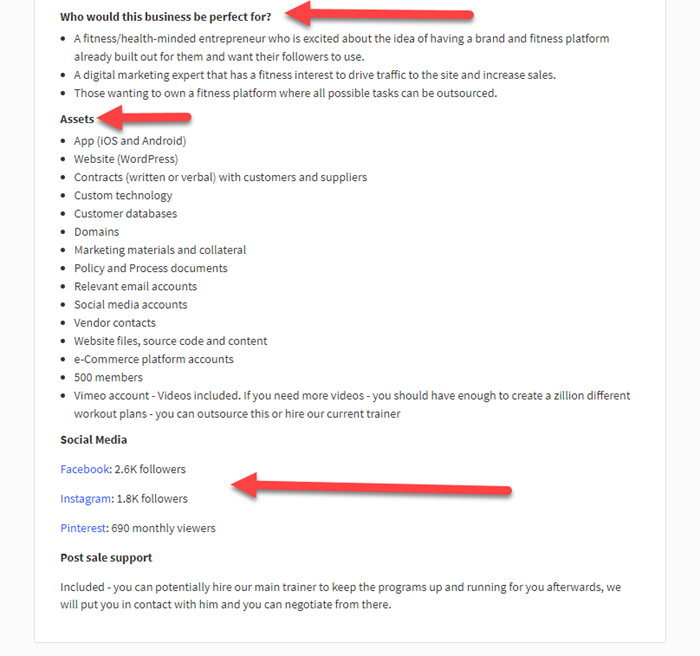 c. Link Your Accounts
Anyone looking to buy your digital asset will be interested in the actual analytical facts. Since you have kept your Google Analytics up-to-date, Flippa allows you to easily upload your information.
Buyers will also want to see your financial records (not shown below) to prove that your blog is worth the money they are spending.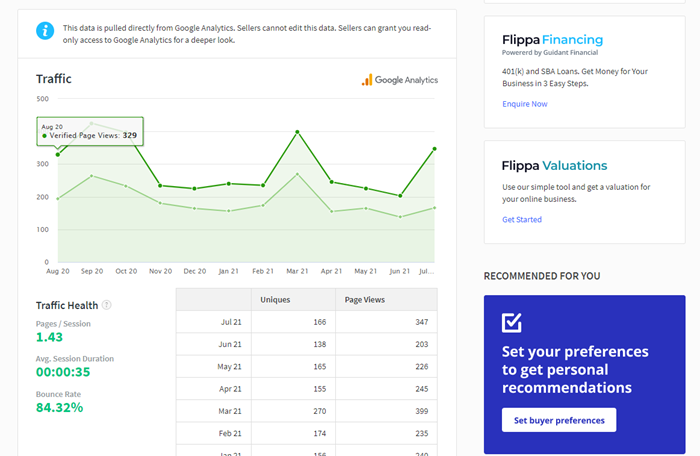 You can also link your social platforms well to show your full reach (as seen above)!
Remember, your goal is to give as much information as possible to ease the mind of a potential investor enough or garner their interest enough for them to reach out and ask you questions about your fitness website. From there, it's on you to close the deal!
d. Pick a Sale Type
Finally, you will have to select the sale type. On Flippa, you have the option to sell your digital asset in a fixed-price or auction-style sale. Auction sales have the potential to sell for higher as more people outbid each other and continue to raise the price.
This potential for higher pay also comes with the risk of a lower sale price if more people are not interested (you can set a reserve). Fixed-price sales are easier to manage but may take longer to sell.
Get your business listed on Flippa here!
6. Know Your Worth and Stick to it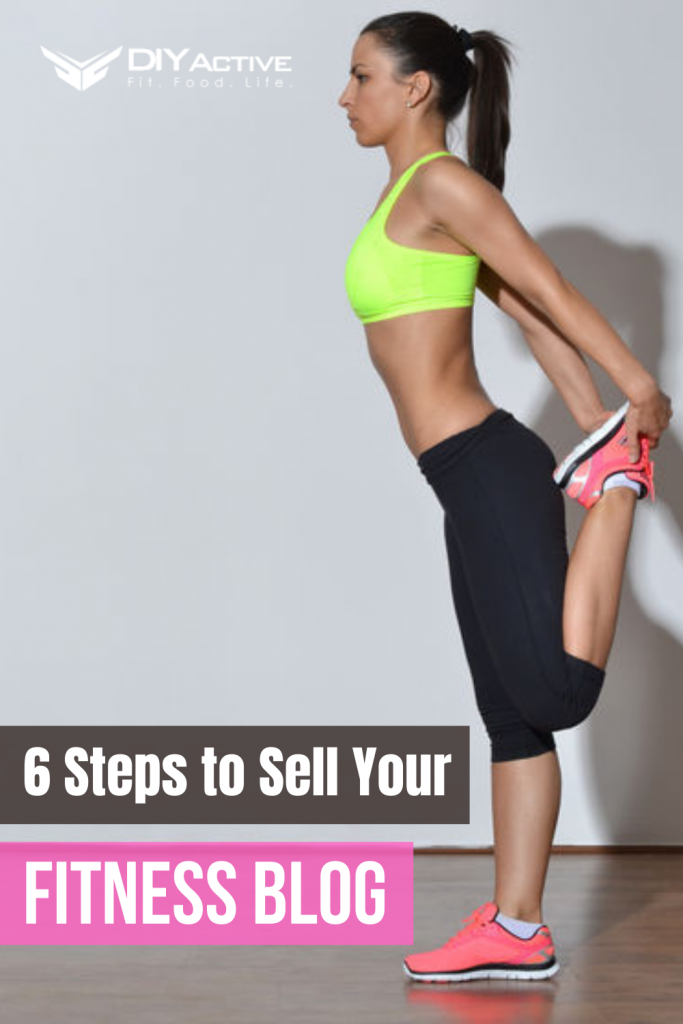 After putting all of your effort into making your fitness blog well rounded and filled out, you want to make sure that you get the money you deserve for it.
If you have been diligent about tracking things like expenses and income, then you know exactly how much money you are making from your fitness blog.
By appropriately pricing your asset, you can be sure that you get the money that you deserve by selling your product. On Flippa, people may try to make an offer to buy your blog from you for a lower price than listed.
Don't just accept what people offer! Depending on how quickly you need to sell your blog, you may have to wait quite a while to get your asking price. Some listings can take as long as 5 months to sell – a previous listing of ours took several months. Be patient and make sure you are happy with the sale that you make.
NOTE: Many times a buyer will want the seller to stay on 2-4 weeks after purchase to ensure a smooth transition. That is totally up to you in regards to this but if you go for it, note that you will stay on for that period of time in your description and add more to your selling price to account for your time during that transition time. Your time isn't free!
Wrap-Up
Look, it won't be easy nor will it be quick, but from experience, I can tell you that even if it's a 5 or 6 figure sale, it will change your life and open your eyes to the idea of digital real estate.
Think about developing a suite of assets that you sell and simply rinse and repeat!
Once that mindset takes hold, your financial freedom is yours!
Advertising Disclosure: In the spirit of full disclosure, DIYactive.com may be compensated in exchange for featured placement of certain sponsored reviews or your clicking on links posted on this website.
Here are the tools used: